National Hispanic Heritage Month traditionally honors the cultures and contributions of both Hispanic and Latino Americans as we celebrate heritage rooted in all Latin American countries. The Department of Information Systems at UMBC celebrates the contributions and initiatives of our Hispanic/Latinx faculty, staff, students, and alumni September 15 – October 15 with a series of spotlights and interviews.
Maria Lopez Delgado is a first-year Ph.D student and shares why she chose to study at UMBC.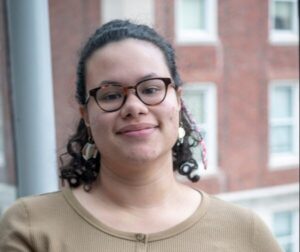 Information Systems: What does Hispanic Heritage Month mean to you?
Maria Lopez Delgado: A tradition of the United States to celebrate once a year Latinx culture and individuals.
Information Systems: How has this culture shaped who you are today?
Maria Lopez Delgado: Growing up in a Hispanic country, my culture has helped shape who I am and has guided my values, decisions, interests, passions, and goals. My culture is a large part of my identity, and I really don't know who I would be without it.
Information Systems: What made you choose UMBC and your Ph.D. program specifically? What can you tell us about your experience so far?
Maria Lopez Delgado: UMBC has allowed me to get involved in research projects that can make a difference in underserved communities and can help bridge the tech gap in those communities. I'm currently a first-year Human-Centered Computing Ph.D. student. At UMBC, I have enjoyed being part of such influential projects from the foundation. More importantly, I recognize the role that higher education plays in transforming communities and helping minority groups progress.
Information Systems: What research areas are you interested in?
Maria Lopez Delgado: I'm currently interested in researching creative technologies, Computer Science education, digital fabrication accessibility, and using these technologies as tools for empowerment.
Information Systems: What are your short and long-term goals after graduation?
Maria Lopez Delgado: Some goals are to continue working on projects related to technology accessibility, specifically digital fabrication.