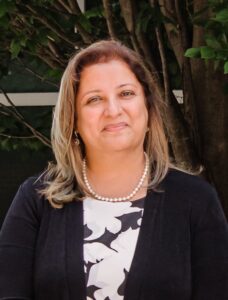 To all our new and returning students,
Welcome to the Department of Information Systems.
Our department is a unique place, with outstanding students, a strong sense of community and an encouraging environment for innovation, collaboration, and learning. Our students graduate with the skills and knowledge to pursue impactful careers addressing today's greatest challenges, from health inequities and climate change to privacy and e-commerce applications that are transforming entrepreneurship.
These are exciting times to be in the field of Information Systems. Recent developments in computer technology have transformed how we learn and interact with each other and have changed the way we approach communication and science. According to the U.S. Bureau of Labor Statistics, information technology occupations are projected to grow 11 percent, adding well over 500,000 new jobs in the coming years with local, regional, national and international opportunities.
The department employs 39 faculty members that are known internationally for contributions to research and practice – receiving federal grants, publishing books and being invited to participate in industry leading conferences, podcasts and other media appearances. We are excited to announce seven new faculty joining our growing department. You can learn more about these new team members on our full-time faculty page. We are also proud to share that Augusto Casas, Helena Mentis and Shimei Pan received Fulbright Awards in the past year.
We are also pleased to share that four faculty lead research centers on campus; CARDS, iHARP, CARTA and ISRC with CARDS and iHARP receiving $10 million+ grants each.
In the past academic year, we graduated 337 undergraduate students (278 with a BS in Information Systems and 81 with a BA in Business Technology Administration), 153 Master's students, and 11 PhD students. Many of our PhD graduates find tenure track faculty positions at prestigious universities and all our graduates continue to be among the most sought-after professionals throughout government and industry sectors.
We have outstanding students across all levels and are excited that Nadja Franklin '23 appeared in a news feature on her work with the Maryland Department of Transportation involving radio frequency identification (RFID). Kayla Massey '22 placed second in the social impact track for her idea Pennies for Pointe at UMBC's Cangialosi Business Innovation Competition. Erin Higgins received a 2022 Generation Google Scholarship.
We look forward to you becoming part of the IS Department with a welcoming culture of inclusive excellence. Please visit us in ITE 404 anytime with any questions or comments you may have. You can search this website as well. We look forward to seeing you.
Vandana Janeja, Ph.D.
Professor and Chair
Department of Information Systems, UMBC