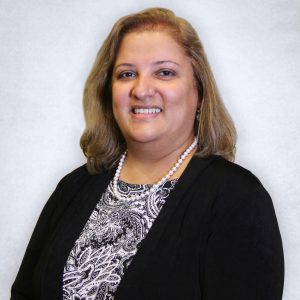 Welcome to UMBC's Department of Information Systems and the new academic year. I am excited to share the successes of our department, where our faculty are known for excellence in teaching and research. Our faculty and staff are committed to helping students achieve the level of excellence which has made our programs world renowned. We look forward to an exciting academic year ahead.     
New Faculty: The department currently has 30 full-time faculty members, including four new members: Dr. Foad Hamidi, Assistant Professor; Dr. Maryam Rahnemoonfar, Associate Professor; Ms. Margret Kahl, lecturer, and Dr. Jennifer Carter, Professor of the Practice.
Dr. Maryam Rahnemoonfar has joined UMBC from Texas A&M University-Corpus Christi (TAMUCC) where she was directing Computer Vision and Remote Sensing Laboratory (Bina Lab). Her research interests include AI, Machine Learning, Computer vision, Data Science and Remote Sensing. Her research has been funded by several prestigious awards, including NSF BIGDATA award, Amazon academic research award, Amazon machine learning award, and IBM. She has also led several efforts for women in data science.
Dr. Foad Hamidi received his Ph.D. in Computer Science at York University in Toronto and has worked as a Postdoctoral Research Associate and Research Assistant Professor at UMBC. His work is focused on the participatory design and evaluation of emerging technologies, such as living media interfaces and DIY prototyping platforms, that support the empowerment and creative expression of diverse populations. He has conducted interdisciplinary, community-engaged research in different countries, including Kenya, Spain, Mexico and Bhutan.
Dr. Jennifer Carter received her Doctor of Management degree and Bachelor of Science in electrical engineering from the University of Maryland. Prior to joining UMBC, Dr. Carter retired from a government career as an engineer and senior executive. Her experience includes designing information collection and analysis systems, managing the modernization of Navy business systems, and leading the development of major defense information technology portfolios. Her government awards include both Meritorious and Exceptional Civilian Service awards.
Ms. Margret Kahl joins us as a Lecturer. She has taught at UMBC and other colleges for nearly 30 years. The courses she has taught include Systems Analysis and Design, Integrating Technology into Business Operations; Database Design, Management Information Systems, Decision Support Systems, and Management courses.
Faculty News: We pride ourselves on innovation, and many of our faculty members receive recognition for work in their respective research areas. This recognition could be via grants, publications, awards, and media coverage. Just a few examples are included here:
Dr. Karuna Joshi received two prestigious awards, IEEE TCSVC Rising Star Award and IEEE Big Data Security Junior Research Award and had multiple papers accepted in selective venues like the IEEE Big data conference.
Dr. Sisi Duan received an NSF award as Co-PI for her research on blockchain titled "Building a Modular, Reliable, Scalable, and Secure Internet-of-Things Infrastructure".
Dr. Jianwu, through his Cyber Training project, selected 16 participants from around 100 applicants nationwide and successfully trained them on multidisciplinary education and research.
Drs. Andrea Kleinsmith and Helena Mentis and colleagues from UMBC's Emergency Health Services Department received NSF award to investigate Stress Reflection Systems in Medical Team Training.
Jimmy Foulds received multiple grants including from NSF and NIST on topics of responsible AI.
Shimei Pan led an NSF workshop grant on including Ethics in Data Science pedagogy.
Dr. Jiaqi Gong is collaborating with colleagues across multiple campuses on a new NIH grant.
Dr. Koru received a grant from the Maryland Department of Health.
Dr. Nirmalya Roy has received multiple NSF awards including CAREER award on Scalable and Adaptable Cross-Domain Autonomous Health Assessment.
In addition, our faculty members are engaged in state-of-the-art research that has resulted in multiple new external grants in areas such as Health IT, Cybersecurity, Big Data/Data Science, Human Centered Computing, and Artificial Intelligence. You can view more of our research projects here.
Student Outlook: Across eight academic programs, we currently have over 1180 undergraduate students, 383 Masters students and 78 PhD students. Through our curriculum, Information Systems students investigate societal impact, keeping humans in the loop, dealing with real and imminent challenges facing society. With the help of our faculty members, students study, design, develop, and evaluate information technologies to address the needs of a broad range of individuals and organizations. Our students are receiving prestigious awards, for example, Ms. Pei Guo received a fellowship from UMBC Joint Center for Earth Systems Technology on causality analytics.
Student Graduation: In the past academic year, we graduated 265 undergraduate students, 131 Masters Students, and 9 PhD students many of whom are pursuing careers in the industry, government, and academia, while others are pursuing graduate studies at the Masters and PhD levels. Many of our PhD graduates find tenure track faculty positions at prestigious universities (such as U Mass Lowell and CMU) and at other industry positions (such as Phillips AI lab, Microsoft Research, Expedia). Our graduates continue to be among the most sought after professionals throughout government and industry sectors.
We hope you become part of the IS department culture of diverse, welcoming, and inclusive excellence. We look forward to your successful and fruitful learning experiences in the department.
Sincerely,
Vandana Janeja, Ph.D.
Professor and Interim Chair
Department of Information Systems, UMBC