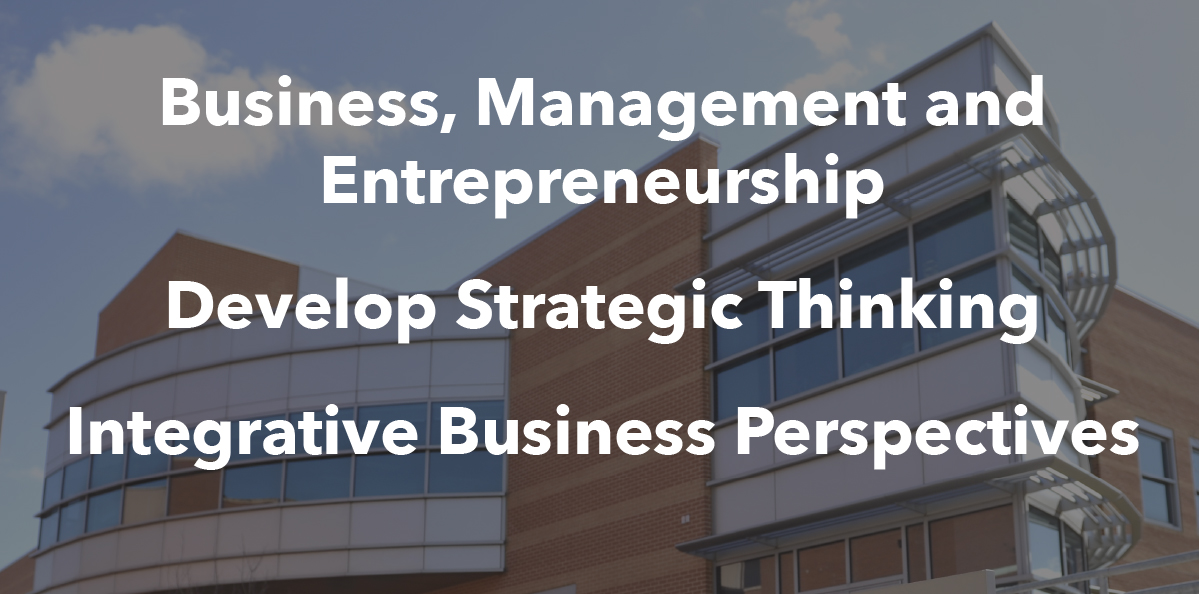 The M.B.A. preparatory studies program is available to students in any major who plan to pursue an M.B.A. after graduation from UMBC. This curriculum is designed to meet the coursework requirements for entry into the M.B.A. program at many graduate business schools including The Robert H. Smith School of Business at the University of Maryland – College Park. No substitutions are allowed. Completion of this curriculum does not guarantee entry into any graduate business program. Students should note that some graduate schools may require the GMAT, and many will not consider a grade below "B" in assessing entry requirements. Increasingly, business schools are requiring business work experience before admittance into a master's program.
Courses required to complete the certificate are below. The printed course catalog contains the official listing of program requirements and takes precedence over information listed on this site. Should you discover a discrepancy between the printed catalog and any information posted on this site, please contact the Department of Information Systems for instructions.
Course descriptions can be found in the Course Catalog.
The Core Curriculum (18 credits):
ECON 101 – Principles of Microeconomics (credits: 3)
ECON 102 – Principles of Macroeconomics (credits: 3)
ECON 121 – Principles of Accounting I (credits: 3)
ECON 122 – Principles of Accounting II (credits: 3)
ENGL 391 – Advanced Exposition and Argumentation (credits: 3) OR ENGL 393 – Technical Communication (credits: 3)
MGMT 489 – Seminar in Management and Administration (credits: 3)
Business Concentration (23 credits):
STAT 350 – Statistics with Applications in the Biological Sciences (credits: 4) OR STAT 351 – Applied Statistics for Business and Economics (credits: 4) OR STAT 355 – Introduction to Probability and Statistics for Scientists and Engineers (credits: 4)
MATH 155 – Applied Calculus (credits: 4) OR MATH 151 – Calculus and Analytic Geometry I (credits: 4)
MGMT 385 – Business Ethics and Society (credits: 3) OR MGMT 360 – Business Law (credits: 3)
MGMT 410 – Operations and Supply Chain Management (credits: 3)
MGMT 425 – Marketing (credits: 3)
ECON 374 – Financial Management (credits: 3) OR ECON 309 – Survey of Economic and Finance for Scientists and Engineers (credits: 3)
An introductory IS OR CMSC course (credits: 3)
Notes:
This certificate is only available to currently enrolled degree-seeking undergraduate students at UMBC. Your major can be from any of those offered at the university. Non-degree seeking students are unable to declare participation in any IS undergraduate certificate program.
Certificates do not require departmental permission. Please use the Undergraduate Declaration of Major, Minor, and Certificate Form to add a certificate.

Notice of successful completion is placed on the transcript at time of graduation. There is not a separate certificate document.

An Important Note: Although we do not require department permission, before submitting the form to add a certificate please contact IS Director of Undergraduate Programs, Richard Sponaugle, rspona1@umbc.edu, for information and prerequisites. Some individual courses may require permission to enroll, and it is important to discuss the timing of offerings and prereqs before submitting the form for the Management Science certificate.
Upper level courses taken to satisfy an IS certificate requirement may not also be used to satisfy the required upper level IS elective course in the IS or BTA majors. All upper level courses count toward the 45 upper level credits required to graduate from UMBC.
All courses must be completed with a grade of "C" or better.