Riya Kaneria, M.S. '22, information systems, holds a BS in Information Technology from Savitribai Phule Pune University, India. She recently completed her MS in Information Systems at UMBC and is currently working as a Data Engineer II at LexisNexis Risk Solutions. Riya kindly shares her experiences at UMBC, how UMBC's Career Center supported her, and gives advice to current and prospective international students.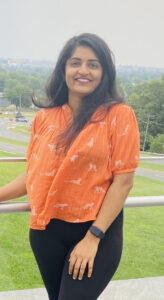 Information Systems: Why did you decide to pursue your Master's in Information Systems?
Riya Kaneria: I chose to pursue my Master's in Information Systems because of its marketability and versatility. I was ready to take my career to the next level and recognized the importance that Information Systems would play in making that a reality. I knew that Information Systems would prepare me for a career in different areas including business analytics, data analytics, etc. In addition, I chose UMBC because of its reputation, and its excellence in research work excited me the most.
Information Systems: As a UMBC student, you also worked as a Starbucks Barista, Orientation Advisor, and Student Front Desk Assistant for the Information Systems Department. What can you tell us about your experience working on campus and how you went about getting on-campus jobs?
Riya Kaneria: I had wonderful learning experiences working on campus and I believe it is an important aspect of college life. All my part-time jobs have been from different backgrounds which made them even more fun and exciting. Working a part-time job is a great way to make money while focusing on school work and it helped me learn time management skills. It gave me the chance to connect with other students, managers, and even faculty and staff members around campus.
Getting on-campus jobs was easy when I started looking for a part-time job. UMBC offers many opportunities for you to have the chance to work in dining services, advising jobs, and many more. My experience was similar, I tried to reach out to the right people, and applied through the Career Center at UMBC, which helped me build great relationships and gain substantial experience. Working on campus has always been very therapeutic and relaxing for me and it all comes with the warmth and welcoming atmosphere of the campus.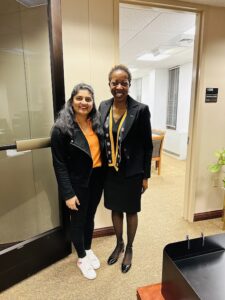 Information Systems: How were you able to balance school and work?
Riya Kaneria: One of the most important things I learned as a student at UMBC is time management. It took me some time to find that balance between work and school, but I used to keep my personal calendar separate from my work calendar. My work calendar included everything from class schedule to work timings, important errands, deadlines, and study breaks. I also leveraged my natural tendency of waking up early to make my day more productive.
My workplace colleagues and managers also played a big role in this as they were supportive and flexible when I needed a break to study or prepare for exams. Overall, it was the community, the people around me, and my hard work that made it easy for me to find that balance I needed.
Information Systems: You are now working as a full-time Data Engineer II. Can you tell us more about your journey in finding a full-time job after graduation and the challenges you had to overcome?
Riya Kaneria: My journey in finding a full-time job has been very rocky. I've had my fair share of challenges in finding a job, to be honest. Being an international student with minimal work experience, I used to be disheartened at first by rejections from companies. But I always learned something new with each interview and I developed the habit of reaching out to my interviewers for feedback which helped improve my interview skills for the next opportunity.
The best part about a graduate degree in Information Systems is that you have many job opportunities to explore and that is what I leveraged the most. The UMBC Career Center played a very important role in shaping my profile to align with the company's requirements. I took appointments for resume building and attended career fairs on campus. I also had the chance to interact with my company's recruiters and individuals to learn more about the company's expectations for a potential candidate. In the end, all these steps were worth it.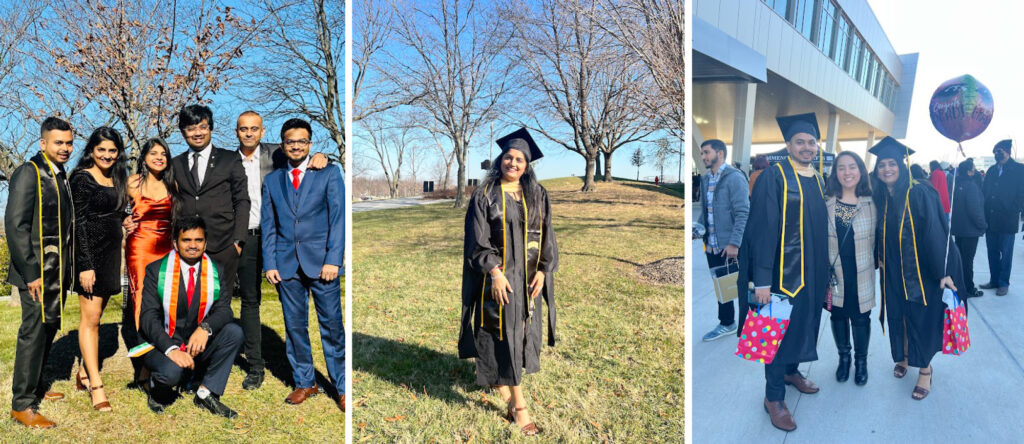 Information Systems: What would you say was the highlight of your time as a student at UMBC?
Riya Kaneria: UMBC gave me the opportunity and the support I needed to be where I am today. My highlight as a student will always be my experiences around campus. The struggle of transitioning as an international student also had its own perks as I learned a lot of things on my own, from budgeting to learning the importance of small things in your life. Another highlight was the internship I did during the Summer of 2022 with the University System of Maryland, which I obtained through UMBC's Career Center. The internship helped me boost my confidence and allowed me to gain real-world experience. I've had a great time at UMBC and have made a lot of friends and memories. It's been an incredible experience, and I wouldn't change it for anything.
Information Systems: What is something you would like current and prospective international students to know about the UMBC community, and what piece of advice would you share with them?
Riya Kaneria: UMBC is a great place because of its educational reputation and its dedication to cultural and ethnic diversity. I have always felt at home at UMBC. If you have the enthusiasm and the commitment toward a great future, I would say, UMBC is the place for you. Also, if you know what you want, UMBC has the right people to help you achieve your goals. I would say, "Always be active, participate in extracurricular activities, and part-time jobs, and of course, study and get good grades, but don't forget to have fun and enjoy everything UMBC has to offer. You won't ever second-guess your choice to attend UMBC."
Information Systems: What do you enjoy doing in your spare time?
Riya Kaneria: I like to keep myself busy outside of work hours. I love cooking in my spare time and enjoy going for long walks. I spend most of my days in front of a computer, which is not the healthiest thing to do, so to give my eyes and back the rest they need, I make an effort to limit my screen time. I also enjoy socializing, especially on weekends and meeting my friends for a movie night or board games.