Cybersecurity Awareness Month is a collaboration between government and private industry to raise awareness about digital security and empower everyone to protect their personal data from digital forms of crime. The Department of Information Systems is participating by profiling faculty and alumni over the course of the month who specialize in cybersecurity with their teaching, research, and work.
Dr. Augusto Casas is a Senior Lecturer in our Online MS program and has over two decades of higher education teaching experience in the fields of information systems and computer science. His teaching philosophy focuses on applying active learning techniques to help students accomplish their learning goals and the development of effective online teaching methods. Dr. Casas takes time to talk about his role within the department, his background in the field and the benefits of being in a 100% online program.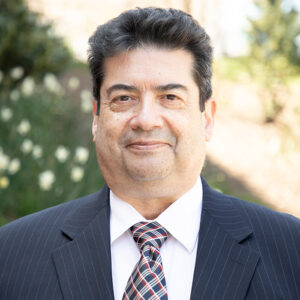 Information Systems: What do you enjoy most about teaching in a fully online program? How is teaching online different, and how is it the same, from being in the classroom?
Augusto Casas: Teaching online offers multiple benefits. First, student diversity is greater compared to a traditional program. My students come from diverse backgrounds and reside in all regions of the country. I even have students who reside abroad and live their normal lives with their immediate families. Students and I benefit from this diverse group's contributions to the virtual classroom. Another benefit is the flexibility the online program offers my students. Students often do their classwork from their place of work and can immediately see how what they learn applies to their jobs. They bring very specific and real questions to the classroom, whose answers they can use immediately. A third benefit is that I can meet students through video conference at times convenient for them and myself. Instead of offering office hours with a fixed schedule and at a fixed physical location, we can meet any day and any time from the comfort of our homes or offices.
The communication method is the main difference between online and classroom teaching. Instead of communicating face-to-face in a classroom, I communicate with students via video conferencing, through video or voice messages, over the phone, or in writing. While most of the interaction is asynchronous, I often meet with students in real-time via video conferencing. Another significant difference is the individualized feedback I give to each student. In a classroom, I can talk to an entire class to tell them what they have done right and wrong. Online, I have to write or record an individualized message that is very specific to each student.
Information Systems: Before transitioning into teaching, you were working in the industry designing and developing Supervisory Control and Data Acquisition (SCADA) systems. What did your day-to-day look like and how did this work inform your interest in cybersecurity?
Augusto Casas: As an information systems practitioner, I spent part of the time interacting with clients to understand their needs. I traveled to the client's sites to listen to them and observe their operations so I could come back with an information systems proposal. Once in the office, I met with colleagues to discuss and design the information systems that met the client's requirements. Then, I traveled back to the client's site to install and start up the system.
As more information systems became integrated into the Internet and, more recently, into the Cloud, their exposure to cyberattacks increased. As a result, more efforts and attention needed to be placed on cybersecurity. Today, knowing about cybersecurity is not a choice but a requirement. Every member of any organization that uses information systems needs to be trained in the basics of cybersecurity. This creates a tremendous opportunity for professionals who specialize in Cybersecurity.
Information Systems: This semester, you are teaching a special topics course called Security in the Cloud. Can you talk a little bit about the course and some of the projects the students are working on this semester?
Augusto Casas: The Cloud has become the default platform for new information systems, and those systems that are not in the Cloud are quickly migrating. Because of this, the focus of our entire master's program is pointing to the Cloud. This created the need to offer a course that addresses the security challenges faced by information systems deployed in the Cloud.
The course begins with a general introduction to Amazon Web Services (AWS), the leading Cloud service provider. Through the AWS Academy, students receive training on the foundations of Cloud computing. Then, we dive into strategies to develop and deploy secure systems in the Cloud. This is a hands-on course where students have direct access to the AWS Console and build networks, databases, and secure web applications.
Information Systems: As we are raising awareness and participating in Cybersecurity Awareness Month, what are some of the biggest trends, milestones, and challenges shaping the field right now?
Augusto Casas: The biggest trend is probably the increased number of cyberattacks to which all organizations, large and small, are subject. From independent contractors to national governments, every organization experiences attempts to bring down their system on a daily basis. UMBC is a Center for Academic Excellence (CAE) in Cybersecurity, an initiative from the US federal government that supports universities with Cybersecurity programs that meet minimum standards. Because of the risks to which US citizens are exposed, the federal government is investing in creating a robust cyber defense infrastructure. We at UMBC are contributing by forming qualified cybersecurity professionals.