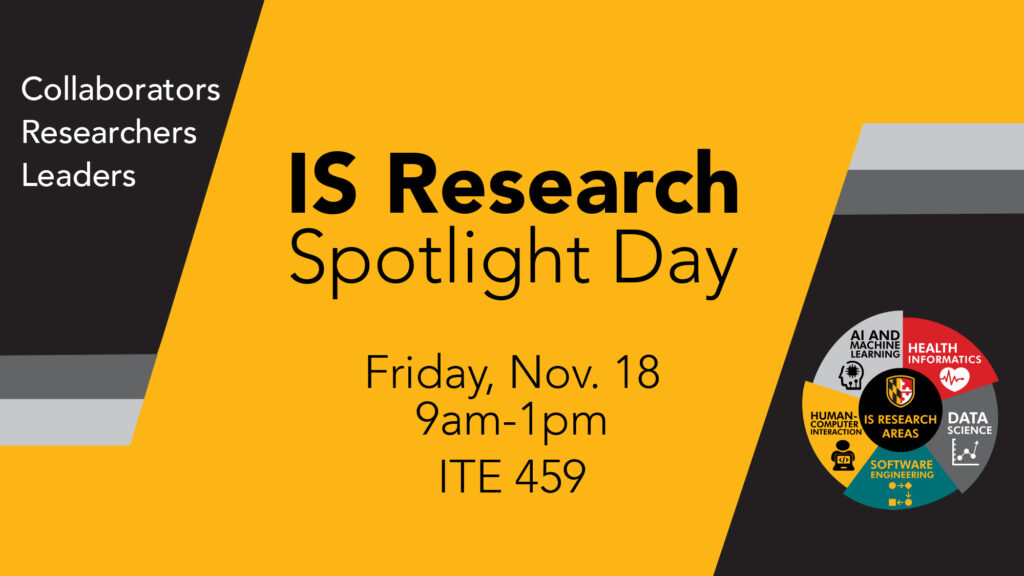 IS Research Spotlight Day provides a forum for faculty at the Department of Information Systems (IS) to showcase their research, exchange research ideas and discuss collaborations with the greater community. As stated by our department's Vision Statement, the IS department aims to be leaders at the intersection of information, technology, and people by advancing innovative interdisciplinary research.
The main research areas of IS faculty include:
Data Science
Artificial Intelligence
Human-computer Interaction
Health Informatics
Software Engineering
Goals
Highlight our research
Promote interdisciplinary research
Targeted attendees of the event 
University leaders
Existing collaborators
Potential future collaborators
Student researchers
Tentative agenda
9:00-9:05 Leadership welcome message
9:05-9:35 New faculty research spotlight (10 mins x 3), Session Chair: Andrea Kleinsmith
9:35-10:10 Grant/Research spotlight (5 mins x 7), Session Chair: Md Osman Gani
10:10-10:20 Break
10:20-10:50 Interdisciplinary research panel (30 mins), Moderator: Foad Hamidi
10:50-11:20 Research centers led by IS faculty (7.5 mins x 4), Session Chair: Sanjay Purushotham
11:20-12:00 IS alumni entrepreneurship spotlight (20 mins x 2), Session Chair: Vandana Janeja
12:00-1:00 Poster session at lunchtime
More at https://informationsystems.umbc.edu/home/research/
---
Previous Events
Dr. Govind Rao
Disruptive Innovation to Reduce Health Care Costs
Wednesday, October 19, 12-1pm • ITE 459
Click to view a PDF of Dr. Rao's presentation abstract and full bio.
Dr. Carl DiSalvo
Design as Democratic Inquiry
Thursday, November 3, Noon • ITE 459
Dr. Tiffani J. Bright, IBM Watson Health
Developing and Sustaining Diversity and Inclusion in Informatics
Thursday, November 10, Noon • ITE 459
Matt DiMaria '84, CEO of VHT
UMBC Alumni Entrepreneur's Journey
Thursday. November 17, 6pm • ITE 406