The Information Systems Security Association (ISSA) Chapter at UMBC has a mission to bring together technology majors in order to network with Information System and Cyber Security professionals and provide education and guidance through presentations and interactive activities. The student organization aims to enhance the knowledge, skills, and professional growth of their members.
Their next meeting is October 11 at 12pm in ITE 241 and they invite all current students to join them. The officers took time to answer several questions for us and provided information on how students can get involved. They post about upcoming events and activities on their myUMBC page, Discord, and Instagram. Be sure to follow and engage with the org on these platforms!

Information Systems: Please introduce yourself and state your responsibilities as officers for ISSA.
Wardan Kazzalbach – I am the current president of ISSA! I am a junior IS major, and my responsibilities are to facilitate contact between industry professionals and groups, organize events for the semester, and recruit new members and officers for the organization!
Sriram Batchu – I am the current VP of communications. I am a senior and currently majoring in Information Systems. I am responsible for creating posters for any upcoming events and helping spread the word about ISSA through social media platforms such as Instagram and Discord.
Shajan Hamza – I am a senior majoring in IS. I am the current VP of Operations and one of my responsibilities includes scheduling the events that cater to the interests of our members, utilizing 25Live. Additionally, I collaborate with the President, Executive VP, and Secretary to plan and coordinate events.
Eyob Befikadu – I am the current executive vice president of ISSA. I am a senior majoring in Information Systems. My responsibilities are to assist the president in management of the organization, presentations, and GBMs. I am also to support other officers when needed.
Zainab Seriki – I am the current Treasurer of ISSA, majoring in Information Systems. I am responsible for coordinating fundraising and budget plans as needed. Request Funding and meeting with the Finance Board as needed and update the president and other officers on budget specifics.
Ouwen Dai – I am the Secretary and a second year Computer Science major with a track in Cybersecurity. My responsibilities include, taking notes during meetings and guest speaker events, creating calendar events for meetings, and booking rooms for events and meetings.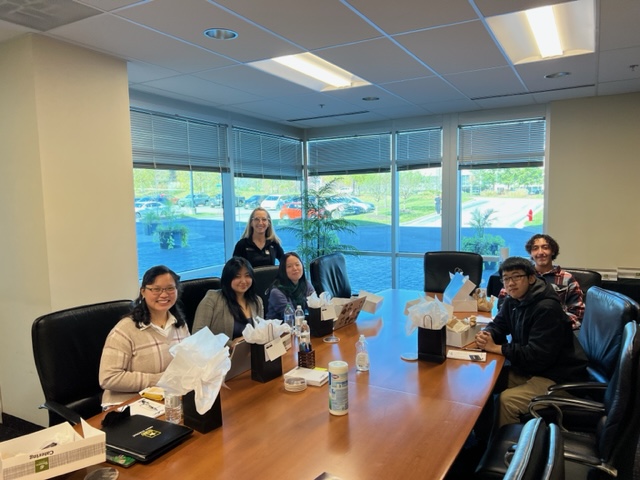 Information Systems: What are your goals for the Student Org?
ISSA: As a student organization, our goals are to network and learn from each other as well as from those in the professional field.
Information Systems: What type of events and activities does your student org host and are these open to anyone on campus or just members of the student org?
ISSA: We tend to host guest speaker events, career and academic workshops, and social events to get to know our fellow peers in our major. These are open to any major, not just those in IT-related fields!
Information Systems: What events do you have planned for this year?
ISSA: Currently, we have a guest speaker event on October 11 from 12 to 1pm with Professor Zehra Zaidi, a full-time professor at UMBC who also happens to be an UMBC alumni. We have a game night coming up, with a date and time to be announced. We are also planning more events as the semester progresses; these will either be workshops or guest speaker events as well.
Information Systems: How can a student become involved and what are the requirements for membership?
ISSA: Any student at UMBC can join our organization! Ways to get involved include attending our events, staying engaged with our members and organization, and participating in our organization.
Our membership requirements are to follow our socials, attend at least two meetings per semester, stay engaged with our members and upcoming events, and participate in everything!
Information Systems: How did each of you first get interested in ISSA?
Wardan – Before becoming president of ISSA, I was just a member. I became interested in the organization after hearing how they brought together those in my major and how they provided guidance on career paths. When I joined, I really enjoyed the events that the organization was having, and all the officers were really kind to one another. I also really enjoyed how we learned from those in the professional industry and how we networked.
Eyob – I was first interested in ISSA when I saw the flyers and notifications about various workshops the organization was hosting. I saw they had a workshop on crafting a LinkedIn and good resume practices. I knew this was something I needed help with and learned a lot from the event. I really enjoyed the events ISSA had after where there were game nights, technical workshops, and industry professional speakers.
Ouwen –  As a student interested in cybersecurity, this was one of the first clubs I joined. The ISSA often brings in people from the industry to share their knowledge and I found that extremely interesting and valuable.
Information Systems: October is Cybersecurity Awareness Month, what are some tips and tricks you would recommend to other students to be safe online and with their devices?
ISSA: Remember that cybersecurity is an ongoing process, and staying safe online requires vigilance and continuous effort. By following these tips and staying informed about the latest threats, you can reduce your risk of falling victim to cyberattacks.
Regularly check if your email and passwords have been leaked, simply google have I been pwned and input your email address
Your public IP address is like the address to your house, NEVER share it with anyone you do not want to know where you live.
Protecting your devices isn't making your device impenetrable, its making your device hard enough to get into where its not worth the hackers time
If you ever install a sketchy file or get a sketchy link, first put the file or link in a site called VirusTotal where it can scan for malware before you open it.