Dr. Faisal Quader has spent 27 years in the fields of engineering, computer science and information science as an industry leader from large scale product development to complex service delivery for demanding federal and commercial customers. He holds a Ph.D. in Cybersecurity; Data Science from UMBC, a Master's in Computer Science and Engineering from John Hopkins University and a Bachelor's in Computer Science from the University of Wisconsin.
He is the president and co-founder of Technuf, a Maryland based company providing leading-edge and proven technologies and industry vertical domain expertise to achieve their customers' mission critical business needs.
In addition, he is an advisory board member for the Department of Information Systems and a current adjunct for the program. Quader was kind enough to share thoughts about his experiences at UMBC, why he became an entrepreneur and how he stays involved with his community.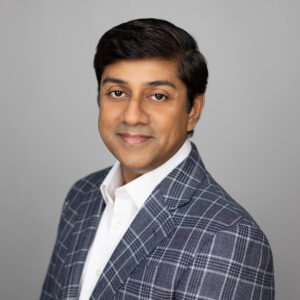 Information Systems: As an alumni, advisory board member and now adjunct professor, why is it important for you to continue to be a part of the UMBC community?
Faisal Quader: I had the pleasure and privilege to be educated at our fine school in the Department of Information Systems and the College of Engineering and Information Technology. During my PhD candidacy, I learned so much and grew to be a better data scientist and a cybersecurity professional. I had a passion to become a professor and share with my students what I learned in my professional career. As an alumni, nothing is better than dedicating myself to doing this than at UMBC. I am able to bring in real-world industry case studies and use these with my students. It is also an honor to be part of the Advisory Board at UMBC for the Information Systems Department and be able to build a path to greater success and growth for our department.
Information Systems: What year did you start Technuf and can you tell us a little bit about the company?
Faisal Quader: I co-founded and started the high-tech company Technuf LLC in February 2011.
Technuf LLC is located in Rockville, Maryland, specializing in cybersecurity, AI/ML, RPA, mobile application development and software engineering. We support numerous federal, state and local government agencies such as the Internal Revenue Service (IRS), NIH, DoD, USPTO, DHS, DIA, the State of Maryland, the State of Florida and the State of Massachusetts on high-profile cybersecurity initiatives, data intelligence, cloud migration, mobile application development and the entire software engineering SDLC process. We are a CMMI Level 3 company with high maturity in the processes and implementation of all our projects.
Information Systems: What led you to the moment where you decided you needed to create Technuf and what were some of the challenges that you had to overcome?
Faisal Quader: I worked for a few fortune 50 companies, General Electric (GE) and Lockheed Martin, where I learned how a large, mature company operates. I learned a great deal of technical and management skills as I had the privilege to build a technology center for GE overseas. Wherever I work and whatever I do, I give 100% and that is what made me a well-rounded technologist. I felt that with everything I learned from these companies, along with my education, that it was time for me to work on my own and make a bigger impact in our society. I took a huge risk and left a stable job at GE and formed Technuf.
I quadrupled my workload as I had to overcome lots of challenges such as winning that very first project. I had money saved up for those first few months and applied my experience to land our very first project with the federal government. I brought in highly talented individuals to execute the project efficiently. Along with my savings, I took out a loan to pay for these newly hired professionals. I was determined that I had to impress our very first client and gave 200%. That paid off, as that small first project brought us 5 additional projects with a high profile federal agency.
Information Systems: What is the most rewarding part of being an entrepreneur?
Faisal Quader: The most rewarding parts of being an entrepreneur are solving problems for our customers that have a big impact, earning a good living and above all, making my employees successful. Employees' success is our success and when I see the growth of our employees and their families, it is motivation for me to keep going, knowing we are doing something right for our community.
Information Systems: What advice would you give to our aspiring entrepreneurs?
Faisal Quader: Entrepreneurship is not easy and takes a lot of hard work, patience and perseverance. Aspiring entrepreneurs should be persistent, honest, hard working and eager to take risks. There will be challenging times and you need to be ready to break barriers and overcome those challenges. Persistence with hard work and enthusiasm to solve customers' problems is the way to go.
Information Systems: In addition to the numerous professional organizations you are a member, you are actively involved with many cultural activities, AABEA and being a singer for example. Can you talk a little bit about these activities and what they mean to you and your community.
Faisal Quader: Along with my professional and academic career, I am engaged with numerous non-profit organizations. AABEA (American Association of Bangladeshi Engineers & Architects) is a professional non-profit organization engaged in supporting the engineering and technical community of Bangladeshi origin. We host seminars with emerging technologies and provide scholarships to engineering students, along with other philanthropic activities. Currently, I am the Central President of North America. I chair another organization called BEST (Bangladeshi Entrepreneurs Society of Talents) in the US. I am actively involved with the National Kidney Foundation (NKF), St. Judes Children's Research Hospital, and the Computer Literacy Program (CLP) as well as the Institute of Electrical and Electronics Engineers (IEEE). Opening up my heart and being able to guide and give a hand in these initiatives is very fulfilling.
Another passion of mine that I cherish is music. I love music and I actively perform solo vocals in various programs and try to build a bridge between eastern and western music. I practice Tagore songs from the Indian subcontinent written and composed by the Bengali polymath Rabindranath Tagore, a Nobel laureate in literature. With my crazy schedule, music keeps me energized to do my work as an engineer and a teacher efficiently.
Family is very important to me. I love spending time with my grown-up kids who are no longer kids (although they are my little kids forever). I also love teaching and helping my students excel. There is nothing more fulfilling than being able to help someone, help my community and the wonderful world we live in. Let us all help each other out and make a perfect world of joy, prosperity and happiness!