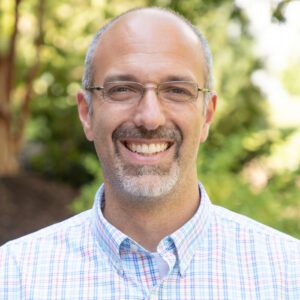 Ian Stockwell, Ph.D. is an Associate Professor focusing on the use of data to improve healthcare systems. He joined academia after twenty years in healthcare operations where he lead the quantitative analysis of diverse healthcare data and oversaw methodological approaches to public health interventions, social drivers of health, and healthcare financing. He is a proud UMBC alum many times over, with bachelor's degrees in Information Systems and Financial Economics, a masters in Economic Policy Analysis, and a Ph.D in Public Policy.
Information Systems: What are you teaching this semester and what are you most excited about for the upcoming year?
Ian Stockwell: This semester I am teaching IS 460/660 – Health Informatics 1. I am really excited because this is my first semester teaching in person; I have only taught online until now. I love being able to interact with students more and watch them interact with each other.
Information Systems: You received your bachelor's degrees in Information Systems and Financial Economics, a master's in Economic Policy Analysis, and a Ph.D in Public Policy, all from UMBC. In addition to your role in IS as an Associate Professor, you are also the Associate Director for Healthcare Research and COEIT Liaison to The Hilltop Institute, as well as adjunct faculty with the Erickson School of Aging Studies. Why has it been important for you to remain a part of this community?
Ian Stockwell: Ever since I came here as a freshman so many years ago UMBC has felt like home. As a student I loved the diverse backgrounds of fellow students and the ability to take classes outside of my discipline. I stayed after graduation because I was able to find a job that combined "learning" and "doing", where I could put knowledge into practice. I hope to continue that path as faculty, pursuing large collaborative projects that can serve as blueprints for the future.
Information Systems: What are some of the main similarities and differences in your time here?
Ian Stockwell: Even with a bunch of new buildings, UMBC still feels the same as it did when I started. Everyone is kind and wants to succeed, and you don't need to look hard to find people from every background imaginable.
Information Systems: How did you first get interested in focusing on creating predictive models to assess the probability of adverse events among at-risk populations?
Ian Stockwell: My interest in applied predictive modeling came from working with state Medicaid programs, which are perpetually underfunded but tasked with taking care of the most vulnerable populations. My economics training taught me that the most efficient way to deal with scarce resources was to triage, in this case that means helping people who need help the most first. My clients agreed, as did the stakeholder community, so we were able to implement such solutions in the real world that I had only ever done on paper. It was an amazing experience!
Information Systems:  You have a full range of experiences working outside of academia in healthcare operations. How has this experience influenced your teaching?
Ian Stockwell: I try to run my classes just like I ran my past teams, with one main guiding principle: everyone has something important to say. I think there is a tendency for folks to look at teachers and bosses the same way: that they have all the answers. But I have had the opportunity to learn things I never thought I'd know from clients, patients, and my staff, and I know that it takes all of that combined experience and knowledge to find the right answer.
Information Systems: What do you like to do in your free time? Any particular hobbies or interests you'd like to share?
Ian Stockwell: I love spending time outdoors with my family … hiking, canoeing, fishing, and gardening are our favorite activities.
Information Systems: Anything else you would like for the UMBC community to know about you and/or your research?
Ian Stockwell: Research doesn't have to stay in the lab. By doing things in the real world we can learn a lot, not just about our chosen domain of knowledge but about ourselves, too.