September 15 is National Online Learning Day, a day to recognize and celebrate the importance of online learning and the progress made in advancing distance learning. We would like to observe this day by introducing the newest Graduate Program Director for the MS Online program, Jimmy Foulds. Dr. Foulds answers questions about his background, the importance of online learning and his plans to grow the program.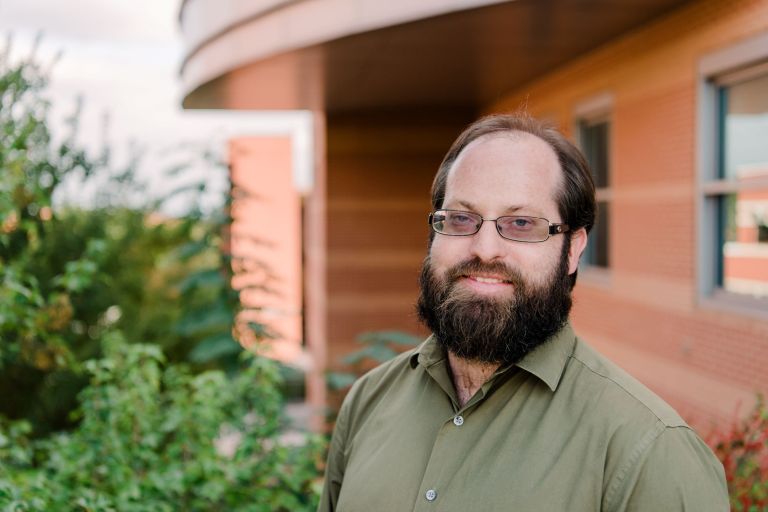 Information Systems: First of all, congratulations on being named the new Graduate Program Director for the Online MS program. As we are celebrating National Online Learning Day, can you shed light on some of the biggest trends, milestones, and challenges shaping the field right now? Perhaps some of the most significant advantages of online programs?
Jimmy Foulds: Thank you very much! With the rapid advancement of artificial intelligence (AI) in recent years, the field is coming to the point where we need to take stock of the impacts of AI and other computing technologies on our world, both good and bad, and to better account for humans in the design of computerized systems. Large language models such as ChatGPT are poised to both make our lives easier and to possibly tip over the apple cart of the entire workforce. More than ever, there is a need for skilled computing professionals. Online programs, such as the Online MS at UMBC, provide a flexible opportunity to advance your knowledge and get ahead in your career while keeping up to date with the rapidly changing computing landscape.
Information Systems: In thinking about these advantages and trends, what are some of your immediate and long-term goals for the program?
Jimmy Foulds: In the short term, we are increasing our (already broad) AI course offerings, including a new AI course that I will teach myself next semester. We have also recently created program tracks that allow students to specialize in the cutting-edge areas of artificial intelligence, cybersecurity, data science, and user experience. In a new addition to our program, you can now earn certificates in these areas, as well as the foundations of information systems, without committing to completing a full master's degree, which provides more flexibility.
In the long-term, as more computing professionals look to upskill themselves, we want to grow the program to reach more students, while maintaining the rigor and high quality of instruction that our students have come to expect. I will not compromise on that.
Information Systems: As online options become more prevalent and important among universities, and students wanting even more online options, how do you address the concerns of those that may still be skeptical of online learning?
Jimmy Foulds: I understand the concerns, as there are some programs out there that give online learning a bad name in the eyes of some prospective students. The UMBC Online MS is not one of those programs. We have exceptional instructors in our program, including many of the tenure track faculty in the department who are leading experts in their fields, as well as highly experienced lecturers and professors of the practice (i.e., professors who specialize in teaching) with doctoral qualifications. UMBC has a reputation for teaching excellence and is a national leader in student-centered learning. Regarding the expertise of our faculty, the University is renowned as a doctoral university with very high research activity under the Carnegie Classification system, commonly known as an R1 institution. The courses offered in our Online MS program aim to fulfill the full educational experience of our on-campus offerings.
Information Systems: Your research interests are in the area of socially conscious machine learning and artificial intelligence, how does your work aim to improve AI's role in society regarding fairness and privacy?
Jimmy Foulds: Data-driven artificial intelligence systems now make many decisions that impact our lives, both big and small, from what restaurant we are recommended to try, to whether we get access to medical care, to whether we get offered a job interview. While it's easy to think of data as being inherently objective and algorithms as being neutral and unprejudiced, the reality is that data reflects bias and inequity in our society, even if it were perfectly representative of the population, which is far from guaranteed. Bias in data leads to bias in algorithms, and to biased, unfair decisions by AI systems. In my research, I aim to help combat AI bias, and I try to shift the field toward taking a more human-centered perspective on the design of these systems. I have also worked on privacy-preserving machine learning algorithms, protecting users from having their personal data leaked by the algorithms themselves.
Information Systems: With your expertise in artificial intelligence and A.I. being a specialization in the MS Online program, how will you be expanding the student experience for those interested in this path?
Jimmy Foulds: I will be teaching a new course on artificial intelligence next semester which will keep students up to date with current trends. As the incoming Graduate Program Director, together with our faculty and staff I plan to take a close look at our curricula and see if and where we can make any improvements to take our course offerings to the next level.
Information Systems: The program just launched five new certificates, A.I., Cybersecurity, Data Science, UX Design and Foundations of Information Systems, all available 100% online. What are the advantages of a certificate vs the full master's?
Jimmy Foulds: I am excited about our new certificate programs as they provide students with the opportunity to upskill themselves in a specific area and get recognition of this from employers without having to invest in completing a full master's program. Flexibility is what online learning programs are all about, so these certificates are a welcome addition. Students can take up to two certificates concurrently. If they choose to go further, building on their certificate studies they may enroll in and finish an MS degree. Our Online MS degree students can also earn these certificates along the way to their master's degrees if they so desire. The freedom that the certificates offer to students is really empowering, and is much needed as it allows students to adapt their educational goals to fit into their busy lives.