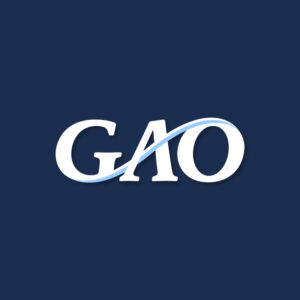 On February 9, 2023,  the U.S. Government Accountability Office came to campus to visit with Information Systems and Computer Science and Electrical Engineering students. Over 60 students registered for the event to hear officials discuss careers with the GAO. The GAO is an independent nonpartisan agency that advises Congress on ways to make government more efficient, effective, ethical, equitable and responsive.
Representing the GAO were Stacey Barron and Will Hutchinson of the Information Technology and Cybersecurity Team, Rich Hung of the Science, Technology Assessment and Analytics Team, and UMBC alumna Leslie McNamara '14 of the Health Care Team. They each discussed how their respective teams ensure that they sustain high-quality and timely service to Congress while also implementing leading practices in their internal operations.
Topics and projects discussed ranged from health issues and vaccine development, FAA avionics cybersecurity, facial recognition technology, to artificial intelligence. The GAO provided key insights and best practices to follow when applying for internships and entry level positions with the agency.
Thank you GAO for taking the time to visit with our students. We look forward to hosting your teams again in the near future.