National Hispanic Heritage Month traditionally honors the cultures and contributions of both Hispanic and Latino Americans as we celebrate heritage rooted in all Latin American countries. The Department of Information Systems at UMBC celebrates the contributions and initiatives of our Hispanic/Latinx faculty, staff, students, and alumni September 15 – October 15 with a series of spotlights and interviews.
First up we have Jack Lopez, a current graduate student in our Online MS program. He was kind enough to answer questions about his Puerto Rican heritage and why he chose to study at UMBC.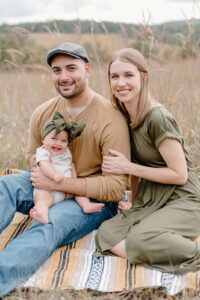 Information Systems: What does Hispanic Heritage Month mean to you?
Jack Lopez: As a Puerto Rican American, Hispanic heritage month is a time to recognize the history and culture of the country and the people whose bloodline I share. For me, it's really awesome to have this recognition in a country like the United States, a country with so much diversity in opinions, cultures, ethnicities, and ideals.
Information Systems: How has this culture shaped who you are today?
Jack Lopez: For me, being Puerto Rican has made me proud of being a Latino. Immersed in American culture, I find that I strive to keep my roots alive. I do this in dance, music, language, and food that I share with others in my community and especially with my wife and daughter. I fight to teach them about our culture so that it doesn't get washed away by forgetting.
Information Systems: What made you choose UMBC and your Master's Program specifically? What can you tell us about your experience so far?
Jack Lopez: I chose UMBC because of its emphasis on research and hands-on learning, and I stayed here because I respect Dr. Freeman Hrabowski. He was such a great president and I wanted to study at his school. The irony is I am not a fanboy for many things, but he was such a respectable guy and very inspiring. I don't find that I can say that about many University presidents.
I chose the IS Master's program because I knew I wanted to strengthen my Software Architecture background. With the IS degree, I could focus on Human Centered Design, Machine Learning, and Cyber Security–areas that I needed to strengthen as a Software Engineer moving into Software Architecture. This skillset, coupled with the fact that I am currently working and caring for my family, required a program that offered flexibility for these things as well. So the online MSIS program was the perfect fit for me. I have already seen the benefits of this degree as I have completed the courses. I have been able to address issues in my job around User Experience, Security, and future product enhancements–solutions all from my coursework. My experience has always been very rewarding, and I always encourage those around me to attend their programs.
Information Systems: Are you part of any clubs/organizations at UMBC?
Jack Lopez: I am not, I am doing the Master's program online, but in my undergrad, I was an RA. And that was the best experience of my entire college career.
Information Systems: What are your short and long-term goals after graduation?
Jack Lopez: After graduation, I am going to be moving from Maryland, but my hope is that I can teach Web Development on a college level as an Adjunct professor. I want to be an Adjunct professor because I enjoy teaching, but also because I want to continue my career in the government working with highly sensitive programs.
Information Systems: What is a favorite childhood memory as it relates to your Hispanic heritage?
Jack Lopez: My favorite childhood memory was when I was with my Grandma. We sat down together and she would try and teach me Spanish. At the time I didn't like it but growing up and reflecting I see so much value in that especially as I try to teach my daughter Spanish and teach her about Puerto Rican culture.
Information Systems: Is there anything else you would like to share with the UMBC community?
Jack Lopez: UMBC has made a lasting impact on my life. I never thought I would have pride in a university but UMBC is a great school with its own uniqueness to it, and I am proud to graduate from here. GO RETRIEVERS!!