Harshal Vijay Nandanwar is currently in our Human-Centered Computing MS program and will graduate from UMBC May 2024. He received his BS in Computer Science from the G.H. Raisoni College of Engineering in India. Harshal talks with us about his passion for graphic design, creating user-friendly interfaces and what he is most excited about for the upcoming semester. He also shares some valuable advice on what prospective students can expect from the HCC program.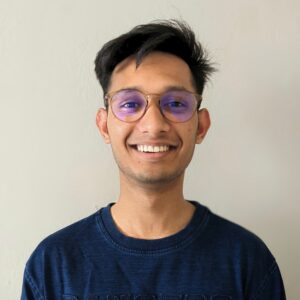 Information Systems: How did you first get interested in Human-Centered Computing?
Harshal Vijay Nandanwar: My initial fascination with Human-Centered Computing emerged through the utilization of sophisticated software developed by industry leaders such as Apple, Google, IBM, and Meta. Observing the remarkable user-centric design principles evident in their software and products compelled me to delve into the realm of design further. The emphasis these companies place on crafting seamless and captivating user experiences prompted me to embark on a journey of exploration and learning within this domain. Moreover, the advanced technological infrastructure available at UMBC significantly facilitated my comprehension of the foundational principles and intricacies of design.
Information Systems: How has your experience as a graduate student at UMBC been thus far?
Harshal Vijay Nandanwar: My experience as a graduate student at UMBC has been both enriching and rewarding. The academic environment here has provided me with ample opportunities for intellectual growth and professional development. The faculty members' expertise and guidance have been instrumental in shaping my understanding of my field of study. Additionally, the diverse and collaborative nature of the student community has exposed me to a wide range of perspectives, fostering a dynamic learning atmosphere. The well-equipped facilities and resources available on campus have supported my research endeavors and allowed me to engage in meaningful projects.
Information Systems: What are you excited about for the upcoming semester?
Harshal Vijay Nandanwar: I am eagerly anticipating the upcoming semester as it presents an opportunity for me to delve into several exciting areas within my field of study. Specifically, I am looking forward to immersing myself in the realm of Graphical Interface Design, where I can develop a deeper understanding of creating visually appealing and user-friendly interfaces. Exploring the intricacies of Human-Computer Interaction is another aspect that captivates me, as I am eager to grasp the nuances of how users interact with technology and how to enhance these interactions for optimal user experiences. Moreover, delving into the subject of Accessibility in User Experience holds great promise, as I recognize the importance of designing interfaces that cater to diverse user needs and ensuring inclusivity in digital interactions.
Information Systems: What advice would you give a prospective student looking to join this program?
Harshal Vijay Nandanwar: For any prospective student considering joining this program, I would offer the following advice:
Research Thoroughly: Take the time to thoroughly research the program's curriculum, faculty members, and available resources. Understanding what the program offers and aligning it with your academic and career goals is crucial.

Clarify Your Goals: Clearly define your academic and career objectives. This will help you choose a program that aligns with your aspirations and provides the necessary resources to achieve them.

Attend Information Sessions: If available, attend information sessions, webinars, or open houses to directly interact with program coordinators, faculty, and current students. This will give you a firsthand understanding of the program's culture and offerings.

Networking Opportunities: Consider the program's networking opportunities, such as guest lectures, workshops, and industry partnerships. Building a strong professional network during your studies can open doors for future collaborations and career prospects.

Stay Open to Growth: Be open to exploring new areas within your field of study. Graduate programs often offer diverse courses that can expand your horizons and help you discover unexpected passions.
Information Systems: What do you like to do in your free time?
Harshal Vijay Nandanwar: During my free time, I engage in a variety of activities that cater to my diverse interests. I thoroughly enjoy immersing myself in graphics design, where I can unleash my creativity and bring visual concepts to life. Mood boarding ideas, as it allows me to curate and conceptualize ideas in a visually appealing manner. Additionally, I find great pleasure in exploring new technologies, staying up-to-date with the latest innovations. On a more active note, I frequently participate in sports events, particularly soccer and basketball, which not only help me stay physically fit but also foster a sense of teamwork and competition. These endeavors collectively contribute to a balanced and fulfilling use of my leisure time.